Hideyuki Fujikura Exhibition in Summer Part 2
Hideyuki Fujikura Exhibition in Summer Part 2
Fujikura Hari's origins With the print of Kiyoshi Saito
JR Hokkaido interior magazine "THE JR Hokkaido" cover picture and
We are familiar with many people with product package such as Rokkasho
A regular summer exhibition by illustrator Hidekura Fujikura.

Landscape paintings of seasonal Hokkaido and
Please enjoy printed works such as posters.

For this exhibition, the former Yubari Museum of Art
At the origin of Fujikura Harie, along with Seito Saito's work from the former storehouse
I'll come close.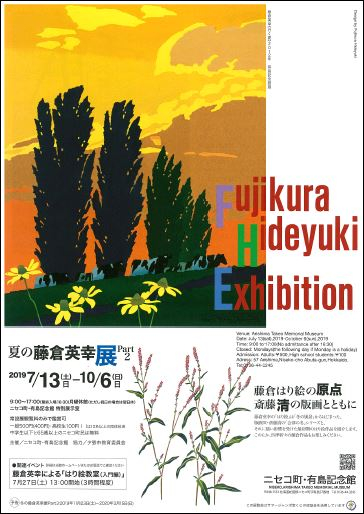 Fujikura Hari's origins With the print of Kiyoshi Saito
Flyer
A session
Saturday, July 13, 2019-Sunday, October 6
※ Closed day of the exhibition / Monday (but closed the next day for holidays)
Venue
Niseko Town/ Arishima Memorial Special Exhibition Room
Price
Viewable only with permanent exhibition fee
Permanent Exhibition Fee (Admission Fee) / General 500 Yen (Groups: 10 or More: 400 Yen) High School Student: 100 Yen
※ junior high school students following and 65 years of age or older of Niseko Town people is free
Annual passport (valid for one year): Adult 800 yen High school student 200 yen
Related events
"Color Painting Class by Hideyuki Fujikura"
[Instructor] Hidekura Fujikura

[Date and time] Saturday, July 27, 2019 13:00 start (about 3 hours)
[Material cost] 1000 yen
[Application] Please apply by visiting or by phone (until July 10 / lottery system)

◆ Please confirm the details by the following link (link in site)
Organizer · Cooperation
Organizer /Niseko Town/ Arishima Memorial Hall
Cooperation / Yubari City Board of Education
Inquiries regarding information on this page
Niseko Town Arishima Memorial Hall

TEL:

0136-44-3245

FAX:

0136-55-8484