Siribeshi Museum Road Concert 2018
Every summer, in accordance with the joint exhibition (exhibition) to be held at the Shogi district's five museums and literature halls, we hold concerts that will take place every two days from 2017. This year's holding is from Saturday, September 1 to Sunday 2nd, and the performers are "VirtuRose"Violinist Ms. Nogitani AkikoWhenCellist Nakajima KyokoMr.
With the memories of the summer, the season when the footsteps of autumn seems to be heard. Please enjoy the collaboration of art work and beautiful music, after being surrounded by magnificent nature that wants the yoke.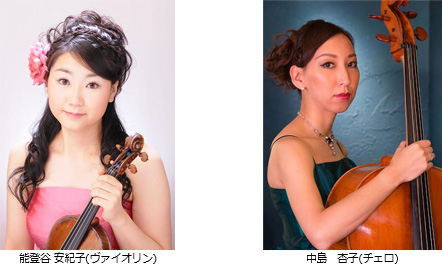 Schedule
Slillish Museum Road Concert 2018

VirtuRose Brilliant violin and cello world
【Appearance】 Akiko Noigaya (violin), Kyoko Nakashima (cello)
【Schedule】 September 1, Heisei 30 (Sat)
11: 00-11: 40 【A】 (one good) Arai Memorial Museum / Free (Iwanai cho)
     15: 00 ~ 15: 40 【B】Arishima Memorial Hall / Free (Niseko Town)
18: 30 ~ 19: 10 【A】 Takeshi Nishimura Memorial Art Museum / Viewing Fee (Kyowa-cho)
September 2 (Sun), Heisei 30
11: 00-11: 40 【B】 Kijimiro Kida Museum of Art / Request Fee (Iwanai Town)
15: 00 ~ 15: 40 【A】 Ogawahara Memorial Museum / Free (Kutchan Town)
[Organizer] Linbei Museum Road Concert Executive Committee
【Support】 Hokkaido Bank
【お問合せ】実行委員会事務局(公益財団法人 道銀文化財団)011-233-1029 
program
【Program A】
Handel Composition / Halvorsen Arrangement Passacaglia
Gruyère Composition Eight Pieces for Violin and Cello
Summer Forest Suite composed by Yukiko Notoya
Variations on the theme of "Hometown" composed by Teiichi Okano / arranged by Yukiko Notoya, etc.

【Program B】
Duo No. 1 in G major, composed by Mozart for violin and cello
Elgar Composition / Arrangement by Akiko Notoya Love Greetings
Composed by Yukiko Notoya Fantasy for Violin and Cello
Momiji Variations, composed by Yukiko Notoya, etc.
Inquiries regarding information on this page
Niseko Town Arishima Memorial Hall

TEL:

0136-44-3245

FAX:

0136-55-8484