Information on the sale of "Premium Gift Certificates"
The purpose is to alleviate the impact of the 10% increase in the consumption tax rate from October 1, 2019 on the consumption of low-income earners and child-rearing households, and to stimulate and support local consumption As a gift voucher with premium.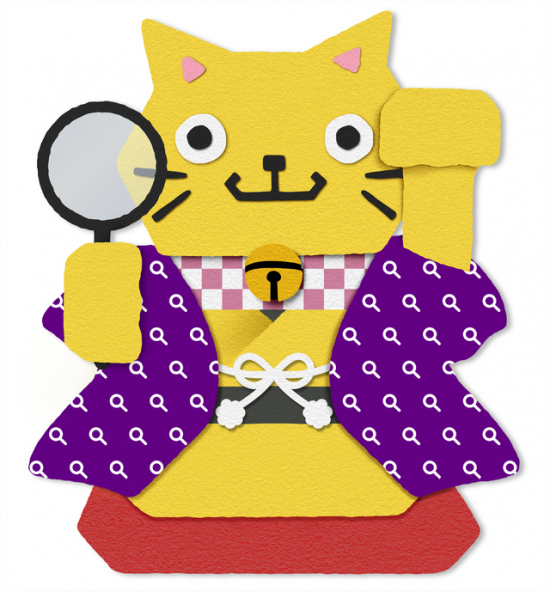 About eligible customers and gift certificates with premiums
Purchase target
Those who fall under either 1 or 2 below are eligible.
Those who meet both requirements can purchase gift certificates from both positions.
1.Person who satisfies the following conditions "all" in the township tax tax exemption year
Person who is Niseko townsman as of January 1, 2019 (one with resident's card in Niseko town)
Those who are not dependent on those who are taxed by the townspeople (family members who have the same livelihood are also excluded)
Those who have not received welfare
* Application is required.
2. The head of a child-rearing household that falls under
From April 2, 2016 (Heisei 28) to September 30, 2019 (Heisei 30)
* Subjects for child-rearing households do not need to apply. Gift certificate purchase vouchers will be sent to all eligible customers.
---
If you are not sure if you are eligible
You can determine whether or not you are eligible on the following premium voucher homepage of the Cabinet Office.
Inquiries regarding whether or not you can purchase a gift certificate with premium will not be accepted by phone or email because of the handling of personal information.If you are a family memberButDirectly to Niseko Town Hall,Please contact us.
(Reception regarding applications: 1st floor of government office building, Health and Welfare Division, Welfare Section)
Overview of gift certificate
Amount of money
1 set for 5,000 yen(500 yen coupon x 10)4,000 yen(Premium rate 25%)
| | | | |
| --- | --- | --- | --- |
| Set Count | Face value | Sales amount | Discount (premium) amount |
| 1 set | 5,000 yen | 4,000 yen | 1,000 yen |
| 2 sets | 10,000 yen | 8,000 yen | ¥ 2,000 |
| 3 sets | 15,000 yen | 12,000 yen | 3,000 yen |
| 4 sets | 20,000 yen | 16,000 yen | 4,000 yen |
| 5 sets | 25,000 yen | 20,000 Yen | 5,000 yen |
Purchase limit
Towns tax exempt
Up to 5 sets per person (25,000 yen face value can be purchased for 20,000 yen)
 
The head of a child-rearing household
5 sets per eligible child (25,000 yen face value can be purchased for 20,000 yen) 分 Number of eligible children
 
* If it is during the sales period, it is possible to purchase it in 5 units in 1 set.
Sales location and date
Release date (Please refer to the following PDF for details)
October 20191st, 2nd, 5th, 6th, 15th, 16th
November 20198th, 9th, 10th
December 201913th, 14th, 15th
January 202010th, 11th, 12th
February 202014th, 15th, 16th

 
place:
Niseko Residents Center (Chomin Center)
(Please check at the venue on the day as the rooms will change depending on the day.)
time:
9 am to 3 pm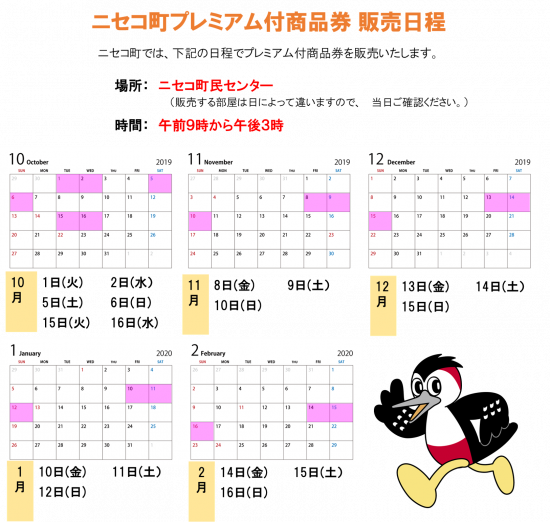 About use of gift certificate
Available period of gift certificate
From Tuesday, October 1, 2019 to Saturday, February 29, 2020
Shops where gift certificates with premiums can be used
For more information about shops where premium gift certificates can be used,
Niseko Machi Chamber of Commerce
Please contact (phone 0136-44-2214).
Notes
Gift certificates can only be used at registered member stores in the city.
The period of use of the gift certificate is from October 1 (Tuesday) in the first year of the war (2019) to February 29 (Saturday) in the second year of the war (2020). Cannot be used outside the period.
Gift certificates cannot be changed. Also, refunds are not possible even if unused.
Gift certificates cannot be exchanged, transferred or traded.
The gift certificate can be used only by the person who issued it or its agent or messenger.
Gift certificates are real estate, financial products, cigarettes, gift certificates, prepaid cards, etc. Highly convertible items such as customs sales and regulations, etc. It cannot be used for payment.
The issuer is not responsible for theft, loss or loss.
Gift certificates cannot be reissued.
---
Those who have been evacuated due to violence from their spouse (DV)
As a general rule, you can purchase a gift certificate with a premium in the municipality where the resident card is located. However, if you evacuate because of violence (DV) from your spouse, By requesting the municipalitySpecial measures that can purchase gift certificate with premium of residence municipalitiesCan receive.
If you think that this is the case, please consult with the Health and Welfare Division Welfare Section or the Commercial and Industrial Tourism Division.
---
Please be careful about fraud pretending to be a gift certificate with premium!
Please be careful about "transfer fraud" or "personal information fraud" pretending to be a gift certificate with premium.
In order to sell "Gift Certificate with Premium", municipalities and the Cabinet Office never ask for a transfer of fees.
Municipalities, the Cabinet Office, etc. will never ask you to operate ATMs (banks, post offices, convenience stores, etc.).
The Cabinet Office never asks for personal information such as the household composition of residents.
 
If you have a suspicious call or mail addressed to a municipality or cabinet office staff, please contact your local municipality or police station (phone for police consultation (# 9110)).
---
Inquiries regarding information on this page
Health and Welfare Section Welfare Section

TEL:

0136-44-2121

FAX:

0136-44-3500
Commerce and Industry Tourism Division Commercial Workers Labor

TEL:

0136-44-2121

FAX:

0136-44-3500