Fare FREE! The ski bus in Niseko Town renewed and it will operate again this year too!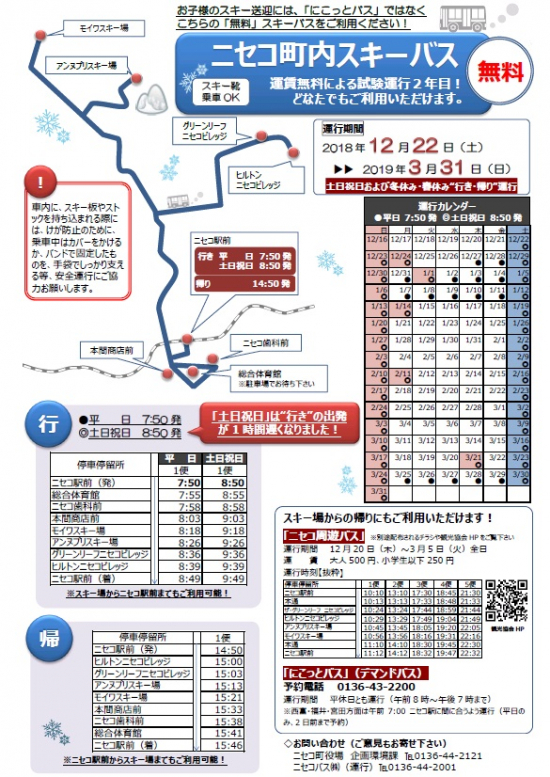 Town ski bus flyer
"Niseko town ski bus" convenient for freight free will continue to operate as last year!
Everyone can use it free of charge, such as picking up children's ski, as well as your own skiing, commuting and traveling between the station and the hotel during traveling!
◇ Operation period
2018.12.22 (Sat) - 2.19.3.31 (Sun)
Saturdays-and-Sundays public holiday and the spring vacation / winter vacation
◇ Fare Free
◇ Travel Niseko BUS Corporation TEL: 0136-44-2001
【Changes since last year】
· On Saturdays, Sundays, and holidays, the time for the ski resort (morning flight) is one hour late and easy to use!
· All flight days are also operated on return (afternoon flight)
· A bus to the ski resort (morning flight) can also get on the bus returning from the ski resort to Niseko station!
· The bus leaving from the ski area (afternoon flight) can also get on the bus from Niseko station to the ski area!
 
Inquiries regarding information on this page
Planning & Environment Division, Business Planning Division

TEL:

0136-44-2121

FAX:

0136-44-3500