JOIN Migration · Exchange & Regional Ocean Fair 2019
Somehow, I am interested in "NISEKO", I'm thinking about U-turn, I want to become a regional cooperation party, I want to acquire English, want to contribute to the community, I want to challenge new work · · · "JOIN Migration · Exchange & Regional Ocean Fair" We will respond to your troubles. In addition to the migrant officer at the Niseko Town office, the Regional Ocean Cooperation Volunteers will also participate, so it is a rare opportunity to directly consult about living things, work, housing, education, various things. We look forward to!

※ In this year's Niseko town exhibition, we will exhibit at the center booth (broad premium booth), and in addition to emigration consultation, we will also offer recruitment and consultation for regional omotei cooperation team.
※ Niseko Town 's Regional Omori Cooperation Volunteers are currently recruiting, but we are planning to recruit additional. For details, please see the "Recruitment and Activities of Regional Damage Cooperation Volunteers" page below.

 
【Date and time】 2019.1.20 (Sunday) 10: 00 ~ 17: 00
【Place】 Tokyo Big Sight East 1 Hall
【Booth】 500 organizations
【Visitors】 8,000
[Organizer] Organization for Immigration and Exchange Promotion Organization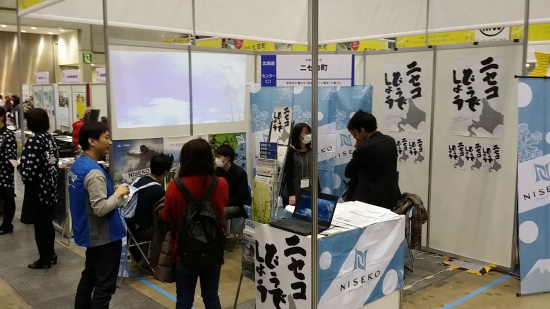 Niseko town booth
We visited Niseko town booth throughout the day all day, and we talked and consulted with about 40 pairs of people on relocation and regional cooperation troops.
Consultation about migration consultation and regional cooperation troops is made at any time by telephone or e-mail. We will also regularly exhibit in fairs in Tokyo and other places.
First of all, please feel free to consult us.
Inquiries regarding information on this page
Planning and Environment Division Autonomy Creation Division

TEL:

0136-44-2121

FAX:

0136-44-3500